Mortgage Bonds were knocked down
Mortgage Bonds were knocked down in the latter part of January, rallied as February picked up steam, and then dropped again.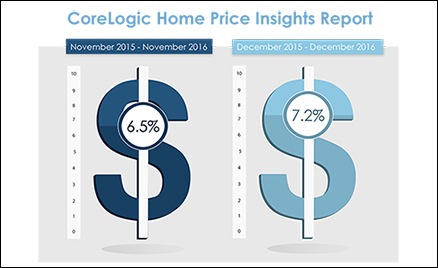 Mortgage Backed Securities, the type of Bond to which home loan rates are tied, worsened after a five-day rally. These Bonds have not been able to break above the resistance level set in November 2016.
Mixed earnings reports in the U.S. coupled with a floundering Greek economy that grabbed headlines again both contributed to the recent rally in Mortgage Bonds. Close to a decade since its first bailout, Greece is in worse shape than it was in the financial crisis. Other countries like Italy, Portugal and Spain are also struggling with debt and tepid economic growth.
As global economic uncertainty continues, we may see the return of investment dollars to the safer haven of the Bond market. Home loan rates, in turn, may benefit as home loan rates are tied to Mortgage Bonds.
Improved Bond prices and home loan rates would be a welcome sign as housing prices continue to rise. Home price gains continued through the end of 2016, surging in December. CoreLogic, a leading provider of consumer, financial and property information, reported that home prices, including distressed sales, rose 7.2 percent from December 2015 to December 2016. From November to December, prices rose 0.8 percent. The U.S. has experienced 59 consecutive months of year-over-year increases. CoreLogic forecasts a 4.7 percent increase in prices from December 2016 to December 2017.
Despite the market volatility, home loan rates remain in attractive territory.